>
>
Developer creates another first in Tagum
Developer creates another first in Tagum

The time capsule ceremony was participated by Mercedes Tuason, board of directors of HRC; property development director of HRC Eduardo Abores; SLLI president Exequiel D. Robles; SLLI chair Vicente R. Santos; SLLI VP for sales Mariza Santos-Tan; Sta. Lucia Ventures Inc. CEO and EVP Liezl Tuason-Magpoc; SLLI board of director Jose Ferdinand Guiang; and Barangay Chair Leo Uy of Madaum.
By: Vanessa B. Hidalgo – @inquirerdotnet
Philippine Daily Inquirer / 02:30 AM April 07, 2018
Los Rayos Lake Residences in Tagum City, Davao del Norte formally opened its doors to its future residents with a day filled with festivities.
Notable personalities graced the said launch including Speaker Pantaleon Alvarez, who delivered the key address; Tagum City Mayor Allan Rellon; and Rosanna Tuason-Fores, president and CEO of Hijo Resources Corp.
The launch also showcased the 760-ha Hijo Estates where Los Rayos Residences is located. It is considered a sustainable tourism gem with natural landscapes to further increase environment preservation.
This latest project from Sta. Lucia Land formed part of its thrust of "Building Better Lives," as the company continues to be at the forefront of providing world-class estates for Filipinos for over four decades. From the summer capital of Baguio City in the north to the thriving City of Davao in the south, Sta. Lucia has an expansive portfolio with over 200 projects across the country.
Next economic hub
Hijo Estates is considered to be the next economic hub in the southern part of the country, thus attracting many developers such as Sta. Lucia to tap the opportunities in the area.
Sta. Lucia Land thus partnered with Hijo Resources to develop within Hijo Estates the Los Rayos Lake Residences, which is envisioned to become a prime residential enclave in the bustling City of Tagum.
Hijo Resources is a Davao-based firm with interests in leisure, tourism, agri-business, port operations and property development. It is also known for being the pioneer in the
cultivation and export of Cavendish bananas to Japan. Currently, it is shifting its focus to developing industrial estates in the property sector.


One of the highlights of the launchwas when actress Sofia Andres gave the awards to the best performers.
Exquisite retreat
Los Rayos Lake Residences is envisioned as an exquisite residential retreat, with a lush mangrove forest, Philippine hardwood trees, plus a 4-km stretch of white sand beach all within reach in Los Rayos.
Although living in Los Rayos brings you closer to nature, it is near the center of the city. The 37-ha residential development is accessible to numerous key establishments such as shopping malls, schools, restaurants, plantations and eco parks.
Exclusive amenities which will not disappoint its future residents also abound in Los Rayos Residences. It is built around a central lake surrounded by the lush greenery of Davao. The 4-ha lake area is the centerpiece of Los Rayos.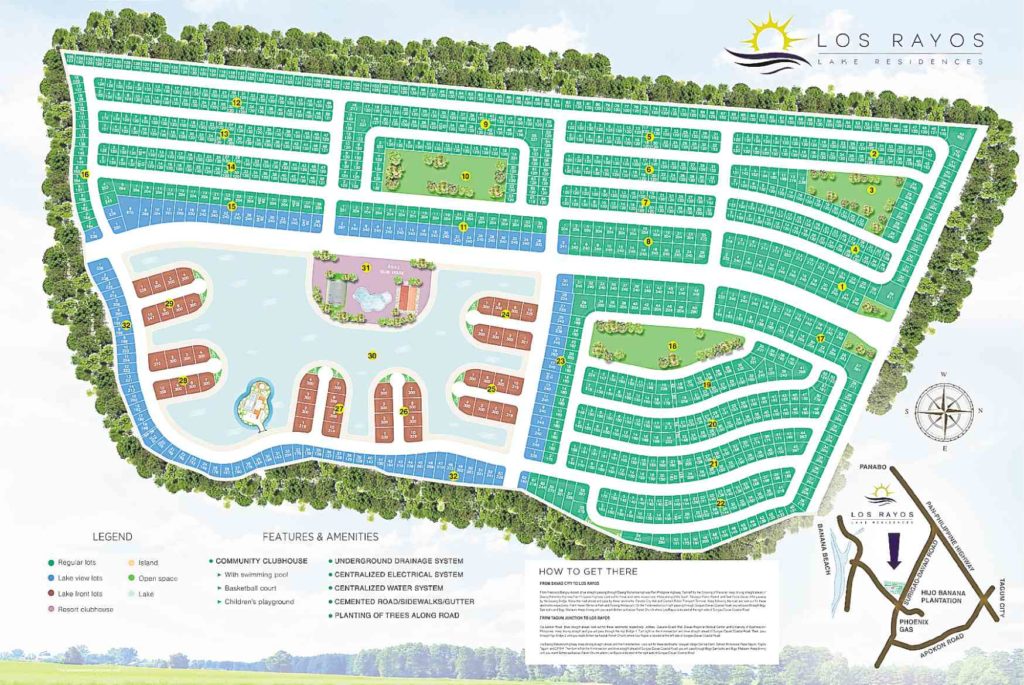 Los Rayos is envisioned to become a prime residential enclave in the bustling City of Tagum.
Festivities during launch
With Tagum City known as the "City of Festivals," the launch of Los Rayos meanwhile held open dance competitions and a singing contest. The positive energy from the performers spread joy to all the guests present during the launch.
Winners of the dancesport competition were Herrico de los Nieves and Gian Frzzy Ligue for the Youth category; Charles Justine Catapan Jr. and Francina Porol for Junior category and Kalel Clark Delute and Zuriel Villaflor for Juvenile category. Clayton John Magnanao was hailed as champion for Voice of Los Rayos.