>
>
Helping Filipino families build their dreams
Helping Filipino families build their dreams

MANILA, Philippines – Becoming a trusted partner of Filipino families in their journey to find their dream home and lifestyle is what Sta. Lucia Group of Companies has earned in its more than four decades of developing premium subdivisions, vertical residences and world-class commercial developments such as golf courses, country clubs and a grand mall.
Sta. Lucia's impressive roster of communities spans nationwide, from the serene and picturesque Cambridge Place in Batangas to the comfortable and progressive Sierra Vista Residential Estates in Quezon City; from the urban oasis of Acropolis Subdivision in Iloilo City to the breathtaking views of the first-class Vista Grande Subdivision in Cebu, to name a few.
In recent years, the leading developer has been exploring the attractive living proposition in nature-rich and progressive Davao City.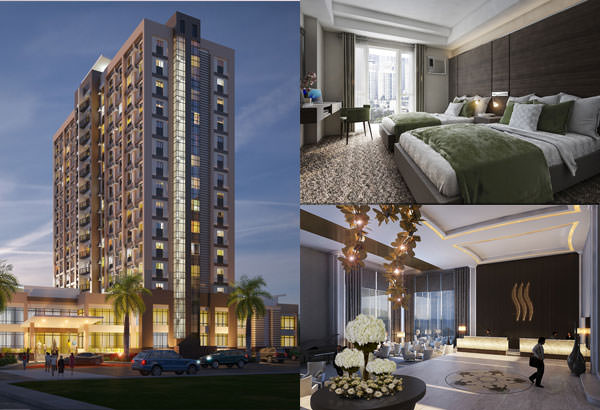 Building dreams in Davao
The leisurely vibe, safe and secure atmosphere and affordable cost of living make Davao an ideal home for both Filipinos and tourists to raise their families. "Davao is the largest city in the Philippines and, reputedly, in the world. It has a huge land area and is becoming more and more a progressive center of trade, commerce and industry in the Mindanao region and in the Philippines," said Exequiel Robles, president and CEO of Sta. Lucia. "I think exploring the real estate potential of Davao is a developer's dream. It's not as congested as Manila and has a peaceful, nurturing character ideal for families."
Sta. Lucia's growing portfolio in Davao consists of new master-planned communities that will bank on the developer's taste for quality, convenience and comfort. "We acquired a hundred hectares in Eden, which is known as the summer capital of Davao. We're planning to build a lake, a church and commercial developments surrounding the residential community, such as sports facilities and a sports club," said Robles.
The developer has also begun planning for the development of the 50-hectare Soller with joint venture partner Lapanday Properties Inc. Soller will be part of the large-scale mixed-use, master-planned development of Ciudades Estate.
Aside from residential communities, rising at the heart of Sta. Lucia's Davao Riverfront Corporate City is the SotoGrande Hotel Suites, a first-class condotel development combining the best of leisure and business.
SotoGrande is at the center where relaxation, accessibility and convenience meet. The Riverfront township covers 60 hectares of Ma-a, which is just a few kilometers from the Davao International Airport. Within the area are principal tourist attractions such as the Crocodile Park, Davao Butterfly House, and Tribu K' Mindanawan Cultural Village. Homeseekers who uphold traditional family values will appreciate the convenience of a prestigious academic institution, St. Paul's College, integrated within Riverfront. Residents can also limitlessly enjoy the amenities and facilities at the exclusive Rancho Palos Verdes Sports and Country Club — the pioneering one-stop sports and recreation center in Davao, also by Sta. Lucia.
"Each of our developments possesses Sta. Lucia's trademark balance of modern lifestyle with convenience, security, comfort and quality of living that every healthy family needs to reach their dreams and aspirations," enthused Robles.
From spacious subdivisions and vertical residences that offer unparalleled comfort and a sense of community, to golf courses, country clubs and a grand mall that boasts features such as state-of-the-art amenities and world-class hospitality services, Sta. Lucia has not only created fine homes and entertainment hubs for the family, but also paid close attention to nurturing their wellbeing.
A family legacy
The Filipino family has always been the inspiration of Sta. Lucia for each of its ventures as it draws lessons and memories from its humble beginnings as a small family business at a time when the Philippine real estate industry was just beginning to secure its niche in the volatile world of business.
Sta. Lucia, then called Buen-Mar Realty, was established by siblings Buenaventura Robles and Marcela Robles-Santos in 1972. The Buen-Mar partnership produced namesake subdivisions in Pasig, Taytay, Morong and Rizal. Soon, they changed the name of the company to Sta. Lucia Realty & Development, Inc. — after the patron saint of Barangay Manggahan in Pasig City where the family lived.
But a great challenge put the family to the test. Buenaventura Robles died after some years and his sister, Marcela, in her grief, followed her beloved brother after a few months.
It was this turning point in their lives that made 17-year-old Exequiel Robles step up and take the helm of the family business. The eldest of eight children and barely out of college, he assumed the role of provider for his family. "I started with the buying and selling of properties," shares Robles, now the leader behind Sta. Lucia properties.
"My heart was really into developing subdivisions, but my father never got to teach me how," he said, never expecting at that time that Sta. Lucia would become one of the biggest real estate companies in the Philippines. "With no proper education or training, I started observing realty companies, how they buy raw land, develop it and sell the property for a higher value. It fascinated me. I studied their practices thoroughly, shaped them with my own vision and eventually applied it to how we did our own business."
Sta. Lucia has developed more than 10,000 hectares of land and continues to be the trusted partner of Filipino families in building their ideal home in a fast-paced world. "The real estate industry is becoming more dynamic as the country progresses," said Robles. "There is always room for improvement. As developers, it is important to observe, listen and adapt to the changes around us. We must embrace new technology and innovation to keep up with the times, but we must remember that the quintessential qualities of a home must remain in all our ventures. At Sta. Lucia, the love of a family valued most by every Filipino is the guiding principle behind our residential developments."