>
>
LRT-2 East Extension Allows for East Travel, Seen to Proper Growth
LRT-2 East Extension Allows for East Travel, Seen to Proper Growth

Sta. Lucia City, located at the corner of Felix Avenue and Marcos Highway, is set to highly benefit from the LRT-2 East Extension.
If you've been riding the Light Rail Transit Line 2 (LRT-2), you've already heard the announcer remind passengers that the rail system now extends to Antipolo City in Rizal.
The voiceover may sound strange the first few times but it grows on you, especially when you realize how the project helps thousands get to and from areas east of Metro Manila faster, comfier and cheaper.
Just last July 5, LRT-2 opened its East Extension adding 4 km to the pre-existing 13.8-km line and introducing Marikina and Antipolo stations.
In a keynote speech at the July 1 inauguration rites, President Duterte called the project "one of the hallmarks of the administration's firm commitment to provide a better transportation system for all" that "will improve mobility and ensure transportation connectivity in the busy part of Metro Manila."
The LRT-2 East Extension is part of the government's "Build, Build, Build" agenda that seeks to improve lives by energizing economies with infrastructure spending.
For this specific undertaking, P30 on a single-journey ticket gets commuters from Recto to Antipolo in 40 minutes. It raises the daily capacity of LRT-2 by 80,000 passengers; and eases traffic along Marcos Highway, especially in Marikina, Pasig, Cainta and Antipolo.
This investment in the East is welcomed not only by commuters but also by industries present in the area, like trusted builder Sta. Lucia Land. As a matter of fact, the leading developer sees it as an exciting ride to new heights through a solid presence on its home turf, the eastern corridor of the metro.
The farthest stop, Antipolo Station, is in Masinag area. It is near the intersection between major thoroughfares Marcos and Sumulong Highways. Thus, commuters alight closer to transport nodes leading to the rest of Rizal. The speed motivates more people to reside in Sta. Lucia homes across the province.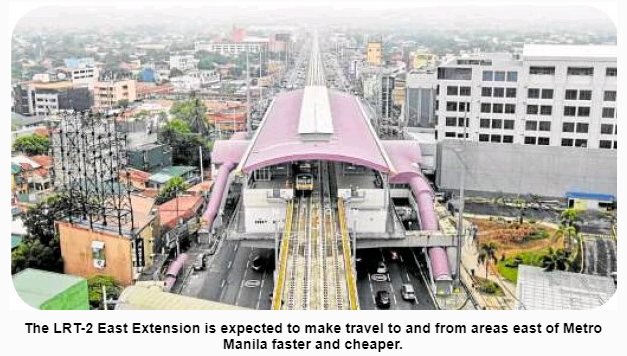 The Marikina Station provides instant access to Marikina, Pasig and Cainta in Rizal. It directly benefits Sta. Lucia City at the corner of Felix Avenue and Marcos Highway. Among the developer's flagship developments, this is a mini-city with a large shopping complex, multitower residential undertaking under construction and an upcoming premium office building.
The station directly connects to Sta. Lucia East Grand Mall. This means increased footfall for the locators of the commercial space with over 230,000 sqm in gross floor area. This lifeline will help a current mix of homegrown and international brands recover faster from the recession and grow bigger much sooner than expected.
Behind the mall is Sta. Lucia Residenze, providing homebuyers and investors with condominium and condotel packages. Upon completion, it will have five Mediterranean-inspired towers complete with modern comforts and amenities, plus direct access to the Il Centro Mall below. This address will enjoy unprecedented accessibility, exponential capital appreciation and proximity to future developments within their locale. One such development is their possible new workplace in the East: Sta. Lucia Business Center, with its 10,000 sqm of leasable office space.
Finally, the extension also raises accessibility to Sta. Lucia's East Bel-Air Residences and Stradella Hotel, both located along Felix Avenue, and the future Soto Grande Katipunan in southeast Quezon City.
All these signify Sta. Lucia's staunch commitment to the place where it started its journey into becoming a real estate leader—now with over 200 developments nationwide to show for it.